Aspiring chef Brooklyn Beckham unveiled yet another new ink to pay tribute to his wife Nicola Peltz during his appearance on The Jennifer Hudson Show on Wednesday.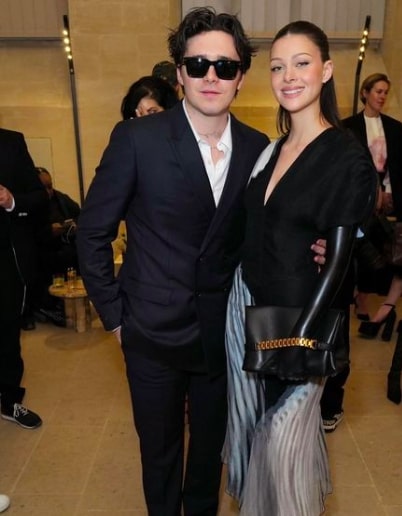 Beckham, 24 who is the son of footballer David Beckham and Spice Girl Victoria Beckham removed his sweater to show off his latest ink – a large portrait of  Peltz, 28, on his arm.
According to him, he has between 80 to 100 tattoos in total, where many of which are tributes to Nicola Peltz.
The aspiring chef went on to share that right underneath the actress' face, he has the lyrics to the song that the couple walked down the aisle to, in April of last year.
Incorporating Nicola Peltz's name
In a recent interview, Brooklyn Beckham revealed that he legally incorporated his wife Nicola Peltz's last name after their marriage to honor her family. When asked about their plans for a family, Beckham expressed his desire to have as many children as his wife would like. He mentioned that he has always wanted to be a young dad, just like his father, who had him at 23.
Beckham shared his enthusiasm for having children, stating that he could have had kids yesterday, but acknowledged that it's ultimately his wife's decision. At 23, he feels ready to start a family and is excited about the prospect.
The couple got married in April 2022 in a luxurious ceremony at Nicola's family estate in Palm Beach, Florida. Among the guests were Mel C, Serena and Venus Williams, Jordana Brewster, Gordon Ramsay, and Eva Longoria.
Beckham's siblings, Romeo, Cruz, and Harper, also attended the event, as did Nicola's parents, businessman Nelson Peltz and model Claudia Heffner, and her seven siblings. The wedding was a celebration of love and family, setting the stage for the couple's future together.
Beckham wanted to marry Peltz
In an interview in the April/May issue of Cosmopolitan UK last month, Peltz said Beckham would tell her he intended to marry her "all the time" while they were dating.
"We started dating three years ago last October. He would tell me all the time, 'I want to be with you,' or 'I want to marry you,' " she revealed.
Joseph Harding guilty of money laundering, faces 35 years prison
NOTE: Photo above is from Instagram