Born on September 25, 1982, Kim Tae-pyung, better known as Hyun Bin is a South Korean actor. He gained prominence after appearing on the 2005 romantic comedy My Name is Kim Sam-soon. Some of his other works include Secret Garden, Memories of the Alhambra and the romantic drama Crash Landing on You. 
He also starred in Confidential Assignment, The Swindlers, The Negotiation and Rampant. In 2011, Hyun Bin was Gallup Korea's Television Actor of the Year. The actor also has been nominated for several prestigious awards, including five at the Baeksang Arts Awards, and won various accolades for his acting recognition, including the Grand Prize (Daesang) for TV at the 47th Baeksang Arts Awards.
Hyun Bin started dating his co-star Son Ye-jin in 2021, after Crash Landing on You concluded. They got married in March 31 2022 and on 27 November 2022, Son gave birth to a baby boy.
Here are some of the hit Korean drama series Hyun Bin has starred in:
My Name is Kim Sam-soon 
Kim Sam Soon (played by Kim Sun Ah) is a talented baker who is good in making pastries and cakes. Kim caught her boyfriend Min Hyun Woo (Lee Kyu Han) cheating on her and leaves her on the same night.
Kim then accidentally went into the men's restroom and meets Hyun Jin Hun (Hyun Bin), who is a somewhat callous person but sometimes a considerate guy. Coincidentally Jin Hun needs a baker for his restaurant Bon Appetit and Kim is unemployed.
She is then hired at Bon Appetit and the two fights like cat and dog. Eventually they start to fall for one another and Kim agrees to post as Hyun's girlfriend so that his mother will leave him alone. Hyun's former girlfriend Yoo Hee Jin comes back from the States intending to win Hyun back and things get complicated.
Secret Garden
Hyun Bin plays Kim Joo Won, an arrogant and eccentric CEO who keeps up an image of perfection while Ha Ji Won plays Gil Ra Im, a poor and humble stuntwoman whose beauty and body are the object of envy among top actresses.
Their paths cross and Kim mistakes Gil for actress Park Chae Rin and that marks the beginning of a tense, bickering relationship. Kim tries to hide a growing attraction to Ra Im that both confuses and disturbs him. To complicate matters further, a strange sequence of events results in them swapping bodies.
Hyde Jekyll Me 
Koo Seo-Jin (Hyun Bin) suffers from two different personalities. Just like Hyde and Jekyll, he is cold sometimes and other times he is sweet. He is the director of the theme park Wonderland.
Han Ji-Min plays Jang Ha-Na, the master and actress of a circus at Wonderland. Koo tries to kick the circus out of Wonderland and Jang reorganizes the circus to stay. In the process, Jang falls in love with Koo.
Memories of the Alhambra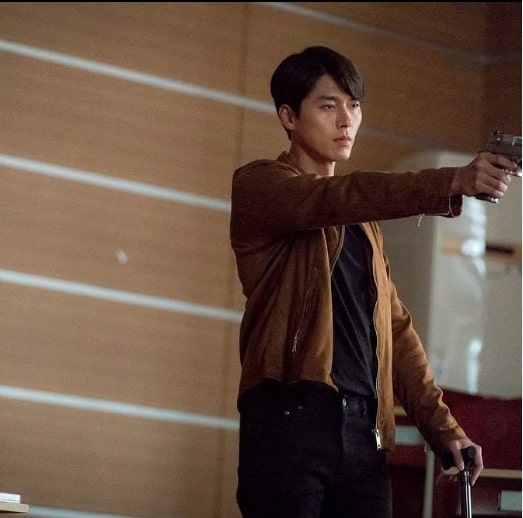 Yoo Jin-woo (Hyun Bin) is a CEO of an investment company that specialises in optical devices. He received an email regarding a groundbreaking AR game about medieval battles in the Alhambra so he travels to Granada, Spain to meet the creator of the game, Jung Se-joo (Park Chan-yeol).
It turned out that Jung Se-joo has gone missing and in Spain, Yoo Jin-woo meets Se-joo's older sister, Jung Hee-joo (Park Shin-hye). She is the owner of the hostel that he stays in and a former guitarist. Both get entangled in mysterious incidents, as the border between the real world and the AR world built by Jung Se-joo begins to blur.
Crash Landing on You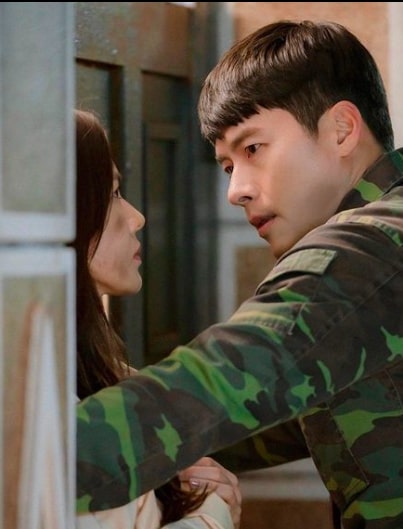 Yoon Se-ri (Son Ye-jin) is a South Korean successful entrepreneur and chaebol heiress. A tornado blows her off course while paragliding in Seoul. Yoon Se-ri then crash lands into the North Korean portion of the DMZ.
Hyun Bin plays Ri Jeong-hyeok, a member of the North Korean elite and a captain in the Korean People's Army.
As he is patrolling, he meets Se-ri and saves her. Having decided to help her go back to the South, he hides her from other North Koreans, especially Cho Cheol-gang (Oh Man-seok) who is out to expose him. As they spend time together, they fall in love.