It has been five months since Pete Davidson and Kim Kardashian called it quits and Davidson appears to have moved on.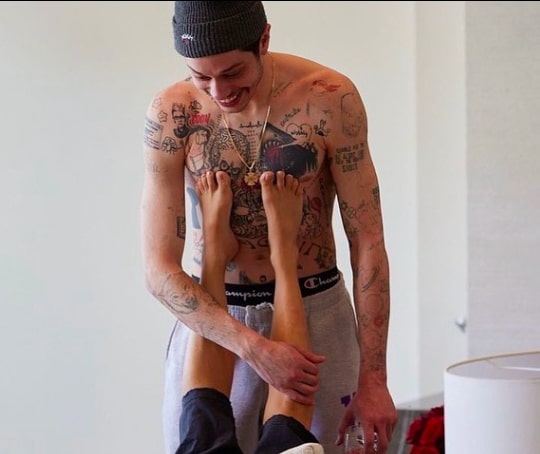 Recently over the weekend, the 29-year-old Meet Cute star went shirtless in Hawaii with rumoured girlfriend Chase Sui Wonders.
The comedian showed off his chest in the ocean and it appears that his tattoos paying tribute to ex-lover Kim Kardashian are no longer there.
Pete Davidson tattoos removed
Pete Davidson famously tattooed his body to pay tribute to Kim Kardashian including her children but the tattoos are gone during his recent trip to the seaside. Last October he was photographed with a bandage above his left collarbone where his "My girl is a lawyer" tattoo was, which sparked rumours that he's had laser treatments to remove the tattoo.
The images in Hawaii confirmed that the tattoos have been removed. Davidson had a Jasmine and Aladdin design on the other side of his clavicle to pay tribute to their first kiss during a skit on Saturday Night Live. It is no longer there as well.
The word 'Kim' which was branded on Davidson's chest has been removed, notwithstanding a faint scar visible in the middle of his dog tattoo. Kardashian told Ellen DeGeneres last spring that Davidson got the brand because of its permanent nature, saying Davidson told her, "I don't want to be able to get rid of it or to cover it up, and I just wanted it there as a scar on me."
Kanye West – kids tattoos
Davidson had a neck tattoo bearing the initials of Kardashian's children and it has also bit the dust. Ex-husband Kanye West would be glad over that because he was not too happy when the comedian tattooed his neck of his children.
The SNL star has more than 70 tattoos all over his body and in a 2019 interview with Inked magazine that getting inked was "just a release … When [I'm] so manic and upset, sometimes that's the only thing that will work for me."
Two years later, he claimed claimed that he planned to get rid of all of his tattoos by the time he turned 30 as he focuses on an acting career.
What a relief if Pete Davidson tattoos were removed!
Davidson dating 
26-year-old Wonders who appears to be Davidson's new lady has been spotted with him on several times in the past month, including a trip to Universal Studios last week when they were photographed holding hands.
It remains to be seen if the "SNL" star will continue removing his past ink in the last year of his 20s or if he'll pay tribute to the newest woman in his life once again.
Earlier this month, a source told ET that Davidson and Wonders "have been spending a lot of time together and like each other a lot."
"They're both funny, so they laugh a lot together and their connection is natural," the source said, before adding that Davidson "likes that Chase is down to earth and cool."
Flowers, Miley Cyrus's new song, reaches 96 million plays on Spotify
Related Posts