Christmas is a globally recognized practice and Saudi Arabia has allowed the celebration of the event in the country with much freedom.
In the recent past, some countries – including Saudi Arabia – saw it as illegal. Today, people inside Saudi Arabia can celebrate the Yuletide season with ease and total merriment, though it is still a matter of dispute among many.
For the general public, it is the ex-pats who are non-Muslims who are to celebrate Christmas but some reports are saying even Saudi families are also celebrating, though there is not enough evidence of that so far in the media.
Previous years in Saudi Arabia
With its identity rooted as the birthplace of Islam, and where the public practice of other religions is theoretically unlawful, celebrating the birth of Jesus was a prickly issue.
Not only was the tradition considered illegal, people were not even allowed to wish others a "Merry Christmas" since it was also against the law.
Christmas is taboo in conservative Saudi Arabia. Christmas trees are banned from being imported into the country.
Big change
Today, baubles, tinsel, candy sticks, Santa hats, fake snow and even trees were all openly on display not only at the local market but in Riyadh's malls and local cafes.
The government of Saudi Arabia under the Crown Prince, Prince Mohammed bin Salman, now allows open Christmas celebrations for celebrating residents.
This policy was hailed by people who celebrated after Riyadh previously banned the open celebration of religious events other than Islam.
With the kingdom's leadership resolute in appearing more outward-facing, and with its desire to attract foreigners to live and work in the country, it is now willing to make concessions.
Faced with persistent criticism that social changes and newfound tolerance are all part of a reputation-laundering attempt, Saudi officials are quick to bristle. "There was a recognition that things needed to change," said one close to the court of Crown Prince Mohammed bin Salman.
"And those necessary changes have been put in place. Our people want to live global lives. For too long a narrow identity was imposed on them. We have nothing to fear from other customs."
Part of Saudi Arabia globalization?
During his leadership of Saudi Arabia, the Prince revised the conservative rules and made a number of breakthroughs according to Vision 2030. This vision is Riyadh's strategy and mission to reduce dependence on oil as its main source of income.
In Vision 2030, Prince bin Salman allows religious celebrations, music festivals, and other types of festivities. Based on these changes, observers say that Saudi Arabia is easing its norms and culture for the good of its economy.
A Saudi expat, Muka Monasterial, said, "I've been here for eight years and have seen this country transform into something that expatriates love."
She further said that before, she only celebrated Christmas at home and it was difficult to find ornaments related to this celebration.
But today, Monasterial is happy spending Christmas Eve in Saudi Arabia.
Vision 2030
In Saudi Arabia, Vision 2030 has created a culture of tolerance and openness. The Kingdom's religious institutions and its system of government are now being updated and carefully re-examined.
The crowned prince is projecting a fresh and a more contemporary path for the country, undertaking a return to a "moderate Islam.
"Saudi Arabia is a tolerant country with Islam as its constitution and moderation as its method," the prince said in an interview.
"We are simply reverting to what we followed — a moderate Islam open to the world and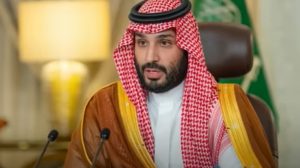 all religions."
No other event can illustrate this extraordinary change in Saudi Arabia than Christmas time.