Is it possible that Selena Gomez, Brooklyn Beckham, and Nicola Peltz are in a relationship, as in a new throuple? Selena Gomez, 30, joked in early January that she was in a throuple with Brooklyn Beckham and his wife Nicola Peltz while sharing photos from a trip they took.
Gomez spent the New Year's Eve with the married couple on a yacht in Cabo San Lucas, Mexico. Gomez is seen cuddling her friends in a series of celebration photos on her Instagram page.
Are they really in a throuple?
The couple cuddled in one shot while lying on a net over the water on their yacht.
"Fine calls us a throuple #foreverplusone," Gomez joked in her caption, just days after admitting she was finally ready to move on and try to find love again, five years after splitting from Justin Bieber.
Aside from that, there were photos of the trio hugging and laughing as Brooklyn and Nicola swerved the Beckhams' festivities.
According to reports, Brooklyn and Nicola have'moved in' with Gomez.
The Beckhams have moved in with the singer
"Brooklyn and Nicola moved into Selena's Encino estate a few weeks before Christmas and the three of them have been playing happy families – joking that Selena is going to be written into the marriage license," a source told.
"Brooklyn and Nicola put their home on the market last year and had been living at Nicola's apartment in LA while they look for a new house, which has been far from ideal given how cramped it is."
"When Selena suggested they move into her sprawling home with a huge backyard, they loved the idea and agreed that since they're still so young, living with a friend would be the perfect way to have the best of both worlds," the insider told Closer.
The source continued to reveal that Brooklyn, Nicola, and Selena have become a 'proper little family', with Nicola often dubbing Selena as her 'sister wife while Brooklyn calls her 'Ms Gomez Peltz'.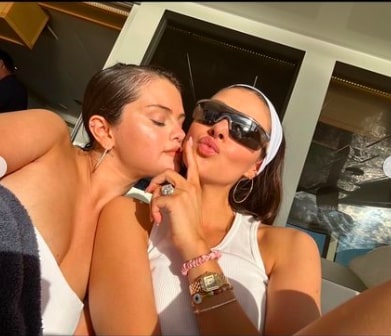 Victoria Beckham feud cause of the problem?
Could Victoria Beckham's rumoured feud with Nicola Peltz have prompted Brooklyn and Nicola to move in with Gomez?
The feud allegedly began at Nicola Peltz's wedding to the aspiring chef when she refused to wear Victoria Beckham's designed gown.
It was also reported that Victoria allegedly hijacked the first song Nicola and Brooklyn were supposed to dance to after their wedding, causing the Transformers star to storm out of her own reception.
An end to the rift?
Nevertheless, a recent report suggested that the former Spice Girl is ready to bury the hatchet with her daughter-in-law.
After a year-long dispute, Spice Girl Victoria Beckham wants to end the ongoing feud she has with her daughter-in-law Nicola Peltz. Victoria is not "afraid" of a showdown with Nicola as she believes a little more controversy would not hurt the brand Beckham.
Kate Middleton speaks: "I'm hurt and outraged" on explosive memoir Spare