A feature in the Twitter platform promoting suicide prevention hotlines and other safety resources used to offer help to those in need, but was removed by new owner Elon Musk.
The #ThereIsHelp feature facilitates searches for support organizations in many countries related to mental health, HIV, vaccines, child sexual exploitation, COVID-19, gender-based violence, natural disasters, and freedom of expression.
Help Twitter
Twitter's head of trust and safety Ella Irwin told Reuters in an email that "we have been fixing and revamping our prompts. They were just temporarily removed while we do that." 
The statement did not mention whether help will be back or not.
Its removal resulted in mounting concerns about the well-being of vulnerable users on Twitter. Musk, however, disagrees. According to the platform's CEO, impressions, or views, of harmful content, are declining since he took over in October. he has even tweeted graphs showing a downward trend. On the contrary, researchers and civil rights groups tracked an increase in tweets with racial slurs and other hateful content.
"We know these prompts are useful in many cases and just want to make sure they are functioning properly and continue to be relevant," Irwin added.
Eirliani Abdul Rahman, who had been on a recently dissolved Twitter content advisory group, said the disappearance of #ThereIsHelp was "extremely disconcerting and profoundly disturbing."
A study
A scientific team led by Thomas Niederkrotenthaler and Hannah Metzler from MedUni Vienna and Complexity Science Hub Vienna analyzed approximately seven million postings on the topic of suicide and suicide prevention on Twitter. It was shown that content on the prevention and management of suicidal crises increased the number of contacts with mental health services. Thus, the researchers were able to provide a quantifiable verification of the potential of social media in the prevention of suicide.
The study also confirmed that many of the individuals who posted suicide-related content received a first reply that could potentially help as this discourages their suicide attempt, provides support or attempts to understand what was happening to those wanting to kill themselves. The responses have reduced distress, the study indicated.
It was also good for people to get help as it made relationships better on Twitter.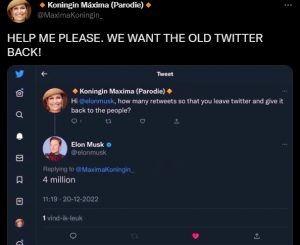 Related Posts