It seems that Ashton Kutcher has a very unique choice when it comes to having a cup of Joe. To add brightness to his coffee, the actor adds a "splash" of orange juice. The star who stars in the new Netflix rom-com, Your Place or Mine shared that he normally drinks black coffee but sometimes mixes it up once in a while.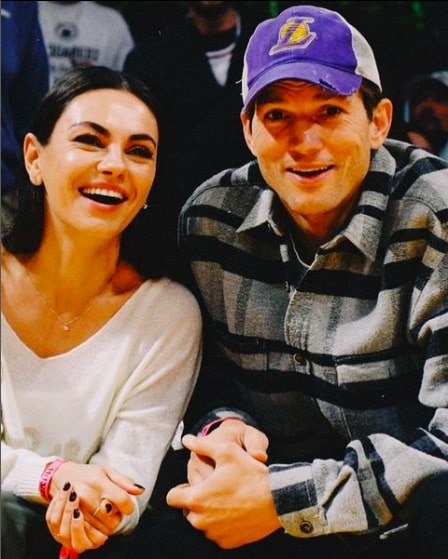 "I just like black coffee. But, occasionally, I like light roast black coffee. And one of the things about light roast black coffee is that it has citrus notes in it," he said Feb. 14 on "The Kelly Clarkson Show."
"And it's one of the things that make — it's the acidity that sort of gives it a brightness when you're drinking coffee. And so it doesn't get that burnt sense about it."
Kutcher, 45, then said adding orange juice is a way to slightly change the flavour.
Orange juice is added to give it acidity
"So if I ever have a medium roast coffee and I'm like, 'I really would prefer this be a little bit more light roast,' I take just a splash — not very much — a splash of orange juice and it brightens up the coffee and gives it a little bit of sweetness," he said.
The 70's Show actor is not joking around. Clarkson said she was going to try his hack, but he offered a word of warning about how much orange juice to add.
"Just a splash," he said. "Don't go overboard. If you go overboard, it gets all sorts of not fun."
"Yeah, it sounds gross, but I'm going to try it," Clarkson said.
Netizens are divided about the concoction
Although the American Idol alum said she was open to trying the mixture, most viewers were doubtful of Kutcher's coffee preference.
"Nah, OJ and coffee in one cup isn't it," one person wrote on YouTube, while another viewer tweeted: "Not in this lifetime."
According to one viewer, the pairing sounded "disgusting," while someone else pointed out that "they're separate beverages for a reason".
However, others were more open to the concept, with one person claiming that Kutcher made the concoction sound appealing when he explained why it works.
"His orange juice in the coffee sounded oddly intelligent after he explained it," they wrote.
Kutcher and his wife also have other unique lifestyle choices
It's not the first time the Your Place or Mine actors' turned heads with a lifestyle choice. In 2021, he and his wife, actress Mila Kunis, divided the internet over how frequently one should shower after they revealed they don't shower every day, at least not with soap.
"I don't wash my body with soap every day," Kunis said on Dax Shepard's "Armchair Expert" podcast, clarifying she does wash her armpits, feet and most intimate areas daily. Kutcher wasn't much different. "I wash my armpits and my crotch daily, and nothing else ever," he said.
They've since poked fun at the debate, with Kutcher joking to Kunis in an Instagram video: "You're putting water on the children? Are you trying to melt them? Are you trying to injure them with water?"
The actor is promoting his new rom-com 
Kutcher is currently promoting his new film with Reese Witherspoon, Your Place or Mine. During his appearance on the Chicks in the Office podcast, Kutcher was asked about the viral photos showing him and Witherspoon looking awkward on the red carpet where they're promoting the Netflix rom-com.
"My wife called me. She texted Reese and I together. She's like, 'Guys, you gotta, like, act like you like each other.' And I'm like, 'What's going on?'" he said of the pics from the carpet that show him and Witherspoon standing side by side with no contact at all.
"Here's the thing, if I put my arm around her and was, like, all friendly with her, I'd be having an affair with her. The rumor would be that I'm having an affair with her," Kutcher said.
"If I stand next to her, I put my hands in my pockets so there's no chance that, like, that could be the rumor, the rumor is we don't like each other," he added. "Reese and I are really good friends. We're really close. I don't have to defend that. I don't have to defend it."