Popstar Britney Spears was seen days just like her hubby, without wedding rings. On March 28, the 41-year-old was exiting an SUV wearing a plaid blazer over white shorts, and Birkenstock sandals while holding onto a teddy bear.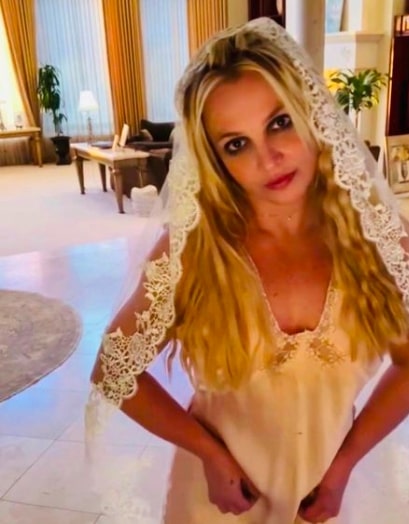 In photos obtained by Daily Mail, Spears was photographed wearing her blond hair in loose curls and covering her face with wire frame sunglasses as she prepared to board a private jet to Hawaii with her manager Cade Hudson.
No Wedding Rings
Two days later, Sam Asghari was seen without his wedding ring as he left a Thousand Oaks gym. The personal trainer wore a tight black t-shirt with camo pants and a blush pair of sneakers. He also wore two watches, an Apple Watch on his right wrist and a stainless steel one on the left.
Not wearing their wedding rings is a sign their marriage could be in trouble.
Curiously, Asghari appeared to respond to the reports and photos with a selfie shared to his Instagram story on March 30 with his ring on. The professional trainer-turned-actor was seated on a plane, but did not reveal where he was headed.
The couple's marriage has been under scrutiny as of late, and earlier this month, Spears raised eyebrows with a post remembering the good times before her third marriage.
So happy before marriage
In the clip, which showed her and her husband during a trip to Mexico, Spears reflected on being "so happy" on the trip taken before their lavish ceremony.
"Throwback to Mexico… before I got married … so happy and silly here!!!" she confessed to her fans.
The caption did not go unnoticed by fans, who commented: "So she's not happy now?'
"He's obvs not happy now, but that also makes me say… the marriage still seems shammy," another Instagram user posted.
After being spotted without his ring, eagle-eyed fans continued to share their concerns for the couple on Twitter, with one fan even "praying" there's no "trouble in paradise".
One worried follower tweeted: "Praying that Britney and Sam are not having trouble in paradise because she truly deserves the world."
Another eagle-eyed follower wrote: "Sam, where is your ring? Urgh, it's not looking good for Britney. I'm scared, guys."
Married in a cosy ceremony
The pair exchanged their vows in front of a small room of people on June 10 last year.
The exclusive guest list did not include Britney's mum Lynne Spears, dad, Jamie Spears or sister, Jamie Lynn Spears, but the likes of Selena Gomez and Donatella Versace were in attendance.
The couple got engaged in September 2021 after she was freed from the 13-year conservatorship she was under.
NOTE: Photo above is from Instagram