Eva Longoria said women directors of color face fewer opportunities compared to white men in Hollywood.
"I felt the weight of my community, I felt the weight of every female director because we don't get a lot of bites at the apple," Longoria said at Cannes during her feature directorial debut "Flamin' Hot."
"We don't get a lot of at-bats. A White male can direct a $200 million film, fail and get another one. Right?" she added.
Complaints From Longoria
Longoria expressed at Cannes that Latinos continue to be underrepresented both in front of and behind the camera, emphasizing the lack of inclusion of females in the Latino community.
According to her, the notion of Hollywood being progressive is flawed when examining the available data.
She believes that the industry presents an "illusion" of equity but has a long way to go, despite some notable successes.
Latinos in Hollywood
While progress has been made in recent years, there is still a significant underrepresentation and lack of diversity in the entertainment industry.
Latinos are often underrepresented in leading roles, behind-the-scenes positions, and overall representation in film and television.
Latinos often encounter stereotypes and limited portrayals in mainstream media, which can perpetuate biases and contribute to the marginalization of their experiences.
Moreover, there have been instances where Latino actors have faced whitewashing, where roles originally meant for Latino characters are given to non-Latino actors. This further restricts opportunities for Latino actors and perpetuates the underrepresentation issue.
However, it's important to note that there are individuals and organizations within the industry actively working to address these disparities and promote inclusivity. There have been successful projects that center on Latino stories and experiences, and more efforts are being made to create opportunities for Latino talent both in front of and behind the camera.
Ultimately, while progress has been made, there is still work to be done to ensure that Latinos and other underrepresented groups receive fair representation and opportunities in Hollywood.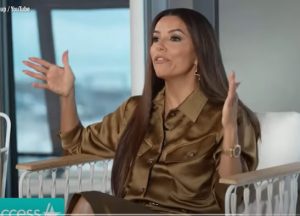 Read More News
Musk appreciates Tim Scott but backs DeSantis' presidential campaign launch
the photo above is from a YouTube screen shot
Related Posts