Eva Mendes isn't shy about discussing her experiences with unwanted facial hair. In a series of Instagram posts on Monday and Tuesday, the 49-year-old actress shared her enthusiasm for dermaplaning, a skincare technique that involves shaving the top layers of skin and hair on the face. She expressed her satisfaction with the treatments she received at the Beauty Villa Vergara spa in Beverly Hills, California, describing them as heavenly and unlike any other place.
The Obsession of Mendes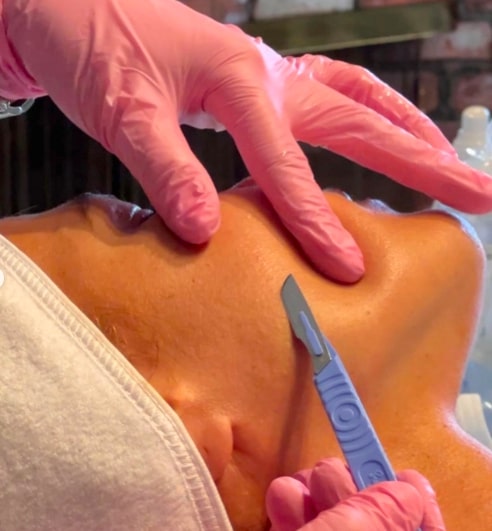 Love for dermaplaning
In her Instagram caption, Mendes acknowledged that "dermaplaning" is the preferred term for the procedure but expressed her love for it nonetheless. Her posts attracted numerous curious fans who asked questions about her experience, to which she responded.
When one commenter inquired about the frequency of her treatments, Mendes humorously replied that she might need them every other day due to her quick hair growth, even joking about how chills in the shower can undo all her leg-shaving efforts.
"A beast"
"I'm a beast so I probably need every other day! Ha. My hair grows back if I get chills," she commented. "I'll literally be shaving my legs in the shower and get chills and all my work is undone!"
Addressing another commenter's question about the effects of the treatment on her skin, Mendes revealed that her makeup and moisturizer go on much smoother afterwards. She also humorously mentioned her Cuban heritage, referring to herself as "hairy" and comparing herself to her "man bear" Cuban Papi, emphasizing their shared genetics. She said that she is his "mini me".
Family with Ryan Gosling
Eva Mendes, who is a mother to her two children Esmeralda (nine) and Amada (seven) with partner Ryan Gosling (42), shared her skincare routine, which began with dermaplaning, or face shaving. She then proceeded with a Diamond Peel treatment recommended by her dermatologist, followed by the application of oxygen and a sheet mask.
Highlander Bar: The Scottish Experience in the Heart of Singapore
Photo above is from Instagram