For two decades, Mexican-American actor Salma Hayek divulged that because of her animal magnetism and allure, she was blocked from getting starring roles in comedy movies by Hollywood as they think she was too sexy and wasn't fit for that film genre.
Too Sexy Hayek
The sexy Hayek revealed this in an interview with GQ UK.
Although Hayek has appeared in romantic comedies such as 1997's Fools Rush In and Breaking Up, she said that it wasn't until Grown-Ups in 2010 that she was given the opportunity to star in a definitive comedy picture.
The sexy star admired Adam Sandler for finally allowing her to be funny, saying she was a typecast for a long time…
"My entire life I wanted to do comedy and people wouldn't give me comedies. I couldn't land a role until I met Adam Sandler, who put me in a comedy (Grown Ups), but I was in my forties!"
They said, "You're sexy, so you're not allowed to have a sense of humor." Not only are you not allowed to be smart, but you were not allowed to be funny in the '90s," Hayek said.
Talking about whether being blocked from acting in comedies frustrated her, she said, "I was sad at the time… But now here I am doing every genre, in a time in my life when they told me I would have expired – that the last 20 years I would have been out of business. So, I'm not sad, I'm not angry; I'm laughing. I'm laughing, girl."
Meanwhile, Hayek returns in a romantic role for Steven Soderbergh's Magic Mike's Last Dance. She plays the elder love interest of Channing Tatum's eponymous stripper in the final edition of the Magic Mike franchise, as reported by Variety.
Not just a sultry movie star
Besides being sexy and funny, Hayek has several advocacies.
Her charitable work includes increasing awareness of violence against women and discrimination against immigrants. On July 19, 2005, Hayek appeared before the U.S. Senate Committee on the Judiciary supporting reauthorizing the Violence Against Women Act. In February 2006, she donated $25,000 to a Coatzacoalcos, Mexico, shelter for battered women and another $50,000 to Monterrey-based anti-domestic violence groups. She is a board member of V-Day, the charity founded by playwright Eve Ensler.
Hayek also supports breastfeeding. During a 2009 UNICEF fact-finding trip to Sierra Leone, for instance, she breastfed a hungry week-old baby whose mother could not produce milk. She said she did it to reduce the stigma associated with breastfeeding and to encourage infant nutrition.
In 2010, Hayek's humanitarian work earned her a nomination for the VH1 Do Something Awards.  For International Women's Day 2014, Hayek was one of the artist signatories of Amnesty International's letter to then British Prime Minister David Cameron, campaigning for women's rights in Afghanistan.
On December 13, 2017, Hayek published an op-ed in The New York Times stating that she had been harassed and abused by film producer Harvey Weinstein during the production of Frida.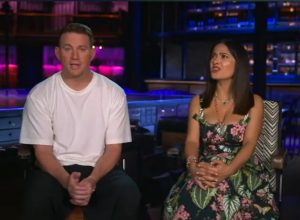 Megan Fox attends Pre-Grammy party with concussion and broken wrist