Rumours have been swirling that Wednesday star Jenna Ortega and NBA player Devin Booker are seeing each other. Booker is known not just on the courts but for his dating life. According to a report by People, the former Kentucky Wildcats player was dating Kendall Jenner before they split up in October 2022.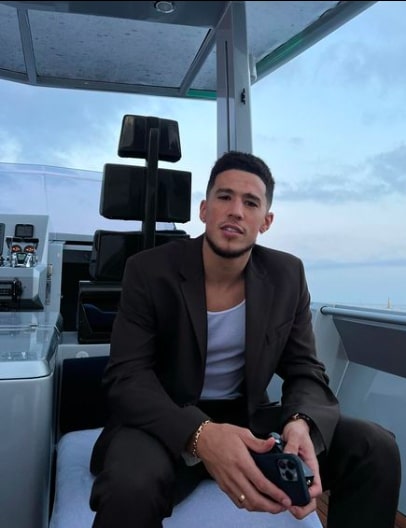 Devin Booker in Fake News
Booker's latest romantic link is Ortega after a photo of the two went viral on social media. An image of the two was shared on Twitter recently with the watermark of TMZ across it.
The caption read, "Devin Booker and Jenna Ortega were seen having dinner together last night".
The photo of Jenna and Devin was posted by B**tcrack Sports on its Twitter handle. The account is popular for posting parodies and satiric content and often fooling naïve followers and netizens with its highly-plausible claims.
It turned out that the photo is fake and that it has been edited. According to one user, the photo is edited from older photos of the two. They attached photos of Jenna Ortega at the Red Carpet Fashion Awards and a photo of Devin Booker at the Vogue World event as proof.
Career Focus
Jenna Ortega recently opened up about her romantic life on the 'Armchair Expert' Podcast with Actor Dax Shepard.
"I almost don't even find myself interested," Ortega explained, "but I think a big part of it is self-esteem. Like, I don't think I'm ready to be that vulnerable or trusting with someone."
The 'Scream VI' star also explained that she's not ready to date yet and her career remains her focus.
Focused on work 
Ortega goes on, "I was in a relationship for a couple of years, but I stopped when things got too hectic. If there's one thing I'm going to focus on – which is probably something I need to change – it's gonna be my work."
Donald Trump uses personal letters from celebrities in his new book, Oprah and Jay Leno speak up
NOTE: The picture above is from Instagram
Related Posts