Recently, Kim Kardashian was taken aback when she noticed a creepy shadow in the background of one of her recent selfies.
In an Instagram post on July 9, Kim explained, "Soooo I took this pic last week when I was alone, and now going through my phone I am freaking out noticing a woman in the window."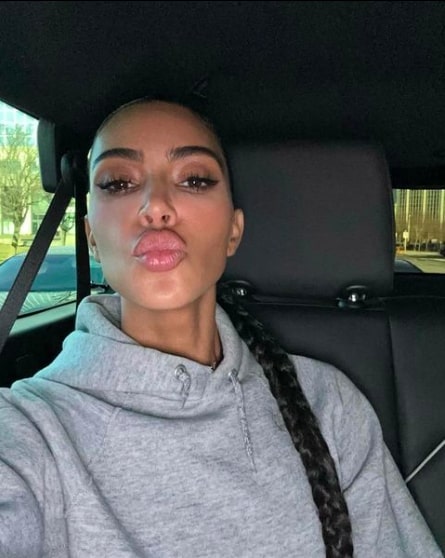 Is it a ghost?
Fans swiftly expressed their thoughts in the comments section. Some offered logical explanations, suggesting it was merely Kim's reflection or a shadow caused by the sun. Others leaned towards supernatural theories, claiming it looked like an alien or a ghost.
Social media users also drew inspiration from the Kardashians' own antics. Quoting Kris Jenner, one person humorously wrote, "This is a case for the FBI." Referencing Scott Disick's famous prank, another commented, "Hi Kim! It's only me, it's Todd Kraines!"
Inspiration for her latest project
While the identity of the ghost remaining unknown, it certainly adds to the anticipation of Kim's latest venture, as she will be starring in the twelfth season of American Horror Story alongside Emma Roberts.
Ryan Murphy, the co-creator of the show, expressed excitement about having Kim on board, stating, "Kim is among the biggest and brightest television stars in the world, and we are thrilled to welcome her to the AHS family. Emma and I are excited about collaborating with this true force in the culture. Halley Feiffer has written a fun, stylish, and ultimately terrifying role especially for Kim, and this season is ambitious and unlike anything we have ever done."
Although this is a new experience for Kim, she is not afraid to take on the challenge. During an interview at the Met Gala in May, the SKIMS mogul stated, "It's really fun to step outside of your comfort zone and try something new and grow. I'm so excited for the experience." When asked if she is taking acting lessons, Kim confirmed that she is, emphasizing her desire to challenge herself.
Read More News
Woke-left accused for MINIMIZING SERIOUSNESS of child EXPLOITATION material after being unsupportive to "SOUND OF FREEDOM" 
The photo above is from Instagram