Reality star Kourtney Kardashian recently denied speculations that she was pregnant with her fourth child yet again.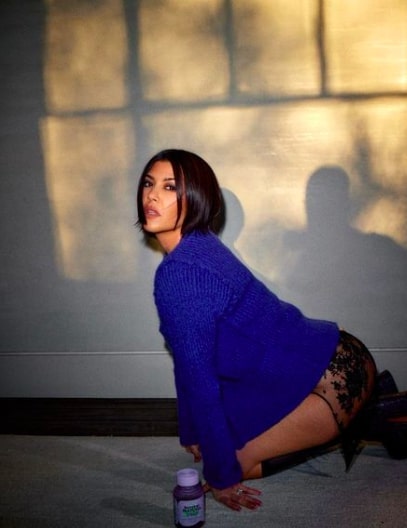 In an Instagram post showing photos from her new Lemme campaign, a fan commented asking if the Poosh founder, 43, was pregnant.
She replied, "the after affects [sic] of IVF (I only acknowledge this comment bc I do think it's important to know how IVF affects women's bodies and it's not spoken about much)."
"also are we still asking women if they're pregnant? ?," Kourtney Kardashian added.
Kourtney Kardashian & Lemme Purr gummies 
Kardashian dressed in an all-yellow outfit with high-waisted leather pants, a crop top cardigan and strappy heels as she held a bottle of her Lemme Purr gummies, which allegedly promote vaginal health.
However, this hasn't been the only time she's had to tell fans off. Previously, Kardashian shut down similar rumours back in August 2021 and, again, in December of that same year.
In a lavish ceremony in Italy last year, Kardashian got married to Blink 182 drummer Travis Barker. She went on IVF therapy before ending it in February 2022.
After stopping therapy following 10 months of treatment, she said she felt energised, adding that it had become "a lot" and negatively impacted her mental health.
The IVF therapy caused weight gain and menopause-like symptoms
Kourtney Kardashian also previously revealed that she gained weight and suffered menopause-like symptoms.
After being called out by the reality star, the same user later returned to the comments to offer somewhat of an apology and explanation for their original response.
A lovely blended family
Kourtney Kardashian and Travis Barker already have five children between them, and have been going through IVF to have a baby together.
The couple has been supporting each other through the process, with Barker fully backing his partner.
Although they have publicly shared that they have put a pause on treatment, the journey has only strengthened their bond and love for each other.
Kardashian had previously discussed their fertility struggles on season 1 of The Kardashians. Despite their setbacks, the couple is determined to keep trying for their dream of having a child together.
$160,000 raised from GoFundMe for a janitor struggling to pay his rent