Madonna continues to challenge tradition as she strips herself topless at the age of 64.
The 'Like a Virgin' vocalist "invaded" Instagram and showed off her age-defying figure in a gold corset and fishnet tights.
She let her long hair flow down her chest as she exposed her glitzy make-up palette, including a glistening lipstick.
"Express yourself, don't repress yourself," the caption beneath the snap, which saw her posing in her bathroom at home.
Deliriously shocking topless Madonna
Is Liz Hurley the 'older woman' Prince Harry reportedly lost his virginity to?
Madonna's fans have continuously been astounded by her recent behavior on social media which includes a post claiming she was "gay."
The superstar also made a weird ten-second video on TikTok where she appears to come out – throwing knickers around her room.
The video was captioned "If I miss, I'm gay," and the clip showed Madonna throwing a pair of pink knickers at a bin — and missing. It was viewed over 16.7 million times and earned almost 15,000 comments from mystified viewers and baffled fans.
Another bizarre clip saw Madonna looking unrecognizable in a lace bondage facemask as she stripped off for a photoshoot.
The topless artist also posed for another set of snaps, drinking water from a dog bowl, leaving her social media fans repulsed.
Defiant, controversial, provocative
Madonna is among the most defining figures in the music industry because of her rebellious image, controversial actions, and songs with provoking lyrics and messages.
"Madonna is one of a miniscule number of super-artists whose influence and career transcend music," said Janice Min of Billboard.
"With her creative vision, relentless innovation, and dedication to philanthropic causes, she is an inspiration to hundreds of millions of people around the world, all while shattering every career record out there. She is an important feminist on top of that, a one-of-a-kind artist who's used her influence to change the conversation around women, sexuality, and equal rights."
Power. Innovation. Identity. Madonna has blended all of these and much more into a singular career in music, fashion, movies, and beyond that's crossed boundaries and demolished the status quo.
But many questioned why topless.
Defying age
What comes to mind when the name "Madonna" is mentioned would be her sensational music career and her 'no-fear' approach to clothes.
She was and still is synonymous with vulgar attires and garb judged by most as "too revealing" or scanty for her age.
Occasionally, her fashion is met with praise, but usually, she's thought to be "too much" for fans, who feel the need to remind her that she isn't '20 anymore' as she posts playful snaps.
Despite the criticisms and disapproval of many fans, Madonna remains to be an encouragement to all women to break the standards set on them by society and to wear what they want.
Truthfully, women look at Madonna and wish to be Madonna. And who wouldn't want to be super poised and assured in their own skin and look as fantastic as she does at 64?
Amid all these, it can be easy to forget how influential she has been. Without her, from music to fashion to the whole concept of celebrity, today's pop culture landscape would simply not exist as it is.
Topless Madonna changing the world?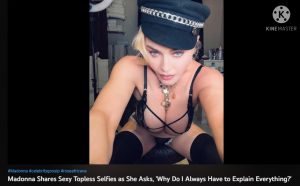 Brought female sexuality front and center
From her first performance of Like a Virgin at the MTV Music Awards in 1984, with her writhing on the stage in a low-cut wedding dress, she fought against the double standard that allows men to express their sexuality yet encourage women to suppress theirs.
Most notorious, in this respect, is Erotica, her 1992 concept album, and Sex, a coffee-table book of explicit photographs exploring her wildest sexual fantasies. The latter represented the most transgressive move of Madonna's career. Recently, the book has undergone revisions, with many critics claiming her message is ahead of its time.
Broke down social barriers
Today, "diversity" is among the entertainment world's catchwords but long before that word surfaced, Madonna has already produced work that has brought marginalized groups to the fore.
In her videos, black and Latino characters are featured. Similarly, gay and lesbian characters appear in her work from as early as 1986, and she never missed an opportunity to proudly parade her gay dancers, friends and collaborators.
Producing template for modern female pop icon
Long before Beyoncé and Taylor Swift, Madonna was the first female pop star to project an image of control, drive, and ferocious individuality. For all her personal sufferings (her mother died when she was five), she has rarely betrayed any emotional delicateness. Rather, she has worn costumes that looked like armor, such as the corset designed by Jean-Paul Gaultier for the Blond Ambition Tour. "I'm tough, I'm ambitious and I know exactly what I want," she once said. "If that makes me a bitch, OK."
Defined contemporary music video
"Kids today worship the television," Madonna declared in 1984, suggesting videos were "a great way to reach a lot of people who wouldn't be able to come and see you live." Her words were revolutionary in an industry still adjusting to the advent of MTV. In her early days, she pushed the limits of what could be explored through the medium, and each new film was a major event. She's made exquisite narrative videos (the teenage pregnancy story of Papa Don't Preach), re-worked pre-existing cultural imagery, such as, in Material Girl, Marilyn Monroe's performance of Diamonds Are a Girl's Best Friend and served up iconic dance sequences (Vogue and Hung Up.)
Growing old "daringly"
"Act your age," is what Madonna is usually told when she appears on stage in revealing costumes. But what many don't realize is that she was always "old" from the very start of her career and has been mocked for it. Madonna didn't have her first hit until 1983, by which time she was 25. Compare that to the likes of Britney Spears and Beyoncé, who were teenagers when they became famous, or Madonna's fellow '80s icons Michael Jackson, Whitney Houston, Prince, and George Michael, who were all much younger than her when they first enjoyed success.
Madonna is the only one to have survived. Recently, she's fighting back against ageism — "People say I'm controversial, but I think the most controversial thing that I've done is to stick around."