Park Shin Hye is known as one of the most popular actresses in South Korea. Her acting debut as a child in Stairway to Heaven (2003) propelled her to stardom. She is also known as a singer.
Since starting out at a young age, Park has starred in numerous films and dramas. She starred in the film Miracle in Cell No.7 which is one of the highest-grossing Korean films of all time. Park ranked 33rd in Forbes Korea Power Celebrity list in 2015, 12th in 2017, 40th in 2021 and 33rd in 2022.
Here are some of her popular Korean dramas:
Stairway to Heaven
Park Shin Hye plays a young Jung-Seo. The story is about Song-Joo (played by Kwon Sang-woo) and Jung-Seo (played by Choi Ji-woo) who was fated to be together before they were born. They grew up together and their parents are good friends.
Song-Joo and Jung-Seo even resemble each other. They try not to be sick because they may worry each other. Song-Joo is the only son of a rich man and he starts his business training and prepares to study abroad.
Before he leaves, the two exchange necklaces as if they are exchanging parts of their souls. Not before long, Song-Joo comes back from his studies to meet his childhood friend. Unfortunately Jung-Seo gets hit by Yoo-ri's (Kim Tae Hee) car and suffers amnesia. Jung-Seo does not remember Song-Joo and she doesn't even remember her own name.
You're Beautiful 
Ko Mi-nyeo (played by Park Shin Hye) and her twin brother Ko Mi-nam lived at an orphanage after their father died. Mi-name becomes a music idol years later while Mi-nyeo lives in a junior nun dorm to fulfil her dream of becoming a nun.
Min-nam managed to audition and wins the "A.N Entertainment" vocal auditions to join the musical band A.N.Jell. Unfortunately, Mi-nam has to leave to the States to fix his botched plastic surgery.
Ma Hoon-yi (Kim In-kwon), who is Mi-nam's manager approaches his sister and asked her to pose as Mi-nam for a month till he recovers. She is against it initially but eventually agrees, as a path to fame would give the twins an opportunity to find their mother.
Mi-nyeo then pretends to be her twin brother and joins the band where she meets the arrogant Hwang Tae-kyung (Jang Keun-suk), the gentle Kang Shin-woo (Jung Yong-hwa) and the bubbly Jeremy (Lee Hong-gi).
The Heirs 
The Heirs is about a bunch of rich high school students on the verge of taking over their families' business empires and the adventures along the way. Lee Min Ho plays Kim Tan, an heir to a large Korean conglomerate called Jeguk Group. Kim Tan was exiled to America by his half-brother Kim Won (Choi Jin-hyuk) who tries to take control of the family business.
Kim Tan meets Cha Eun-sang (Park Shin Hye), who went to America to look for her sister. Kim Tan is engaged to Yoo Rachel (Kim Ji-won), a fellow heiress but he falls in love with Eun-sang. Kim Tan goes back to Korea and to irritate Kim Tan, his former best friend turned enemy Choi Young-do (Kim Woo-bin) begins picking on Eun-sang.
Eventually, Young-do also falls in love with Eun-sang which causes tension. Kim Tan is then forced to choose between his family business or romance.
Park Shin Hye In Medieval Battles
Memories of the Alhambra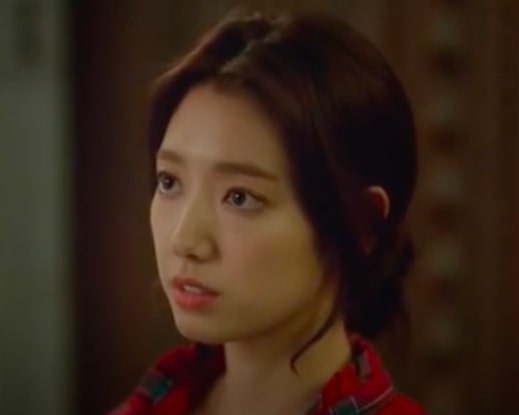 Yoo Jin-woo (Hyun Bin) CEO of an investment company that specialises in optical devices travels to Granada, Spain after receiving an email regarding a groundbreaking AR game about medieval battles in the Alhambra. He sets out to meet the creator of the game, Jung Se-joo (Park Chan-yeol).
Se-joo had gone missing so Jin-woo meets his elder sister Jung Hee-joo (Park Shin Hye) who is the owner of the hostel he stays in and a former guitarist. Both get entangled in mysterious incidents, as the border between the real world and the AR world built by Se-joo begins to blur.
Sisyphus: The Myth
Gang Seo-Hae (Park Shin Hye) saves the life of genius engineer Han Tae-Sul (Cho Seung-Woo) in this time travel story.
Han Tae-Sul is the co-founder of Quantum and Time Company. He is attractive and produces innovative results. His company becomes a world-class enterprise thanks to his efforts. Although he is known as a miracle worker and a hero in his country, the reality is different.
He started behaving eccentrically after the death of his brother a decade ago. His company's stock price has fluctuated accordingly.
Han Tae-Sul learns of an unreliable truth behind his brother's death one day and his dangerous journey starts. Gang Seo-Hae is an amazing warrior who can take down the largest men with just her bare hands.
She is also good in sharpshooting and making weapons. Gang Seo-Hae learned these skills to survive in a world that is dominated by gangsters and military cliques. One day, after a long and dangerous journey, she comes to Han Tae-Sul to save him.
Read More News: