Rapper Tyga sure knows how to impress his new girlfriend, Avril Lavigne and he came up with a custom diamond chain. According to TMZ, the Rack City rapper, 33 spent $80,000 on a custom-made diamond necklace for the Complicated singer, 38.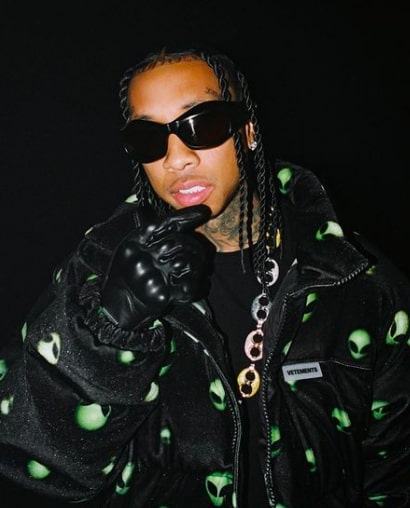 A Custom Diamond
Celebrity jeweller Eric Mavani, who has designed for Kim Kardashian before said that the custom diamond featured 50 carats of black diamonds, white diamonds and pink sapphires.
Avril Lavigne recently received a custom-made necklace from her new boyfriend, rapper Tyga. The piece, designed by jeweler Mavani, includes Lavigne's name, two letter A's over pink hearts, and two skull heads with crossbones. Mavani showcased the necklace on Instagram, referring to Lavigne as a legend.
Tyga reportedly contacted Mavani three weeks before Paris Fashion Week to create the unique piece for Lavigne. The necklace also features an engraving on the back, stating "Made for Avril Lavigne." The singer has been seen wearing the necklace ever since Tyga gifted it to her, including during a date night at Catch Steak in West Hollywood.
Lavigne recently confirmed her relationship with Tyga following her split from fiancé Mod Sun. Some of Mod Sun's fans reacted negatively to the news during a concert in New York City, chanting obscenities directed at Tyga. Mod Sun, whose real name is Derek Smith, appeared embarrassed by the audience's actions.
Mod Sun receives support
The commotion began with a speech from rapper Travie McCoy, who was joining Mod Sun at his show.
'I just wanted to give all the love I have in my heart right now to a brother, Mod Sun,' he began, before describing how the two ran into each other on Melrose Avenue and proclaimed their friendly love for each other.
'I will say this: he is one of the three most loyal motherf***ers I have ever met in my life,' he continued.
After listing all three, he added, 'F*** Tyga,' before flashing his middle finger at the audience with a wide grin.
After the audience burst out into cheers, Mod ran to the back of the stage and climbed over a short rise before hiding behind it.
Is it misogynistic to eat animals? Some Twitter users think so 
NOTE: Photo above is from Instagram