As the city gears up for the much-anticipated Grand Prix Season Singapore (GPSS), a spectacle beyond the racing track is on the horizon. The Grande Whisky Museum (TGWM) is revving up the excitement with SPEED FOR FUN 2023, an electrifying event that promises to elevate the GPSS experience to unprecedented heights.
From 8 – 17 September, the Suntec City-based TGWM will transform into a hub of adrenaline and sophistication. SPEED FOR FUN, part of GPSS, an event supported by the Singapore Tourism Board (STB) aims to captivate racing enthusiasts and whisky connoisseurs alike, adding a new dimension to the GPSS fervour.
TGWM houses an exceptional collection of over 7,000 rare and vintage whisky bottles – an Asia-first treasure trove for whisky aficionados. The event bridges the thrill of racing and the allure of whisky, offering attendees an array of exclusive activities that resonate with both passions.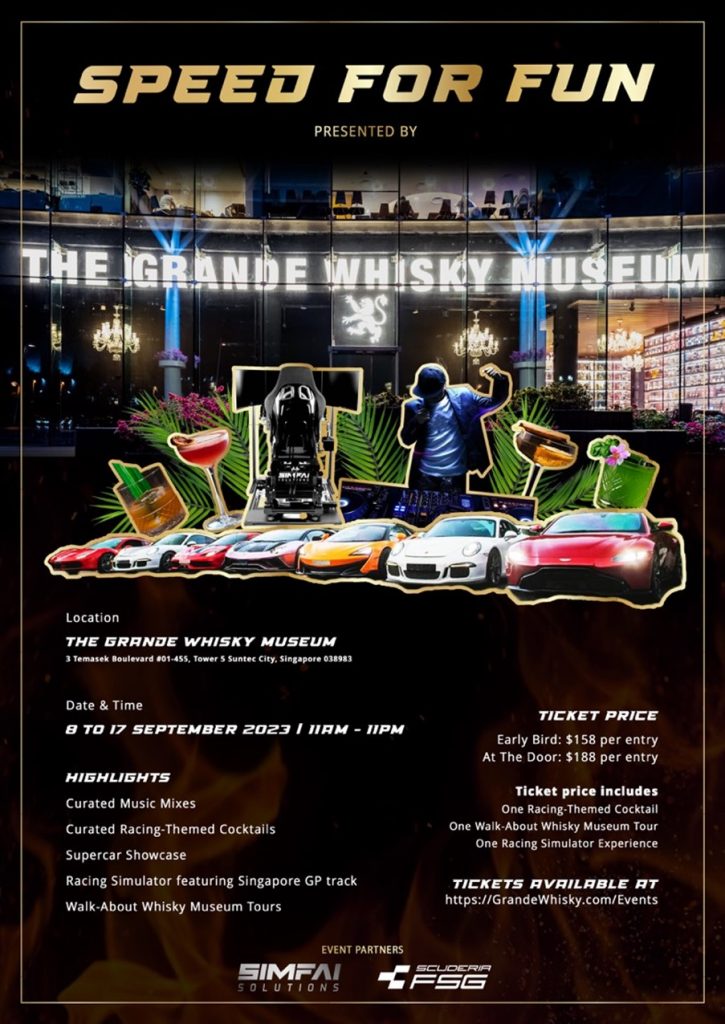 The Grande Whisky Museum
Attendees can unleash their inner speed demon with the SIMFAI Solutions MPRS Racing Simulator, which virtually replicates the Singapore Night Race track, providing an exhilarating experience of high-speed racing. Adding to the adrenaline rush, participants have the chance to secure thrilling prizes by conquering the simulator's challenges.
The Supercar Showcase[1], in partnership with Scuderia FSG, promises to be a visual feast. From Ferrari to McLaren, a fleet of luxury supercars will grace the outdoor area, showcasing the epitome of automotive craftsmanship.
The Walk-about Whisky Museum Tour offers a captivating journey through the world of whisky, immersing attendees in the history and tales of this iconic spirit. Expert guides provide insights into the art of whisky-making, transporting participants to the heart of whisky-producing regions worldwide.
The event's creativity extends to its Curated Racing-Theme Inspired Cocktails. Attendees can savour a selection of eight cocktails, each infused with elements that encapsulate the spirit of the Singapore Night Race track, creating a symphony of flavours that mirror the essence of racing.
Music and racing converge in the Curated Music Mixes, specially crafted to amplify the GPSS experience. The rhythmic beats harmoniously complement the thrill of the event, creating an immersive atmosphere for all attendees.
SPEED FOR FUN presents an unparalleled fusion of entertainment, luxury, and culture, turning the spotlight onto Singapore's vibrant spirit during GPSS. The event is set to capture hearts, ignite passions, and create lasting memories for everyone who attends.
[1] Only on 8, 9 and 15 September
SPEED FOR FUN 2023
TICKET PRICE
Regular Price:     $168 per entry (online purchase)
At The Door:         $188 per entry
Ticket price includes the following:
One SIMFAI Solutions MPRS Racing Simulator experience featuring Singapore Night Race track
Access to the Supercar Showcase in partnership with Scuderia SG (only on 8, 9 and 15 Sept, 7pm onwards)
One Walk-About Whisky Museum Tour
One Racing-Themed Inspired Cocktail
Curated Music Mixes
For more information and ticket bookings, please visit https://grandewhisky.com/events/the-grande-whisky-museum-presents-speed-for-fun
Read More News
The photo above is from: Provided