Malaysian-born US-based actress Michelle Yeoh, 60 may have won a Golden Globes award and recognition at the National Board of Review Awards but the actress has come a long way from humble beginnings and here we take a look at her blockbuster Hollywood movies.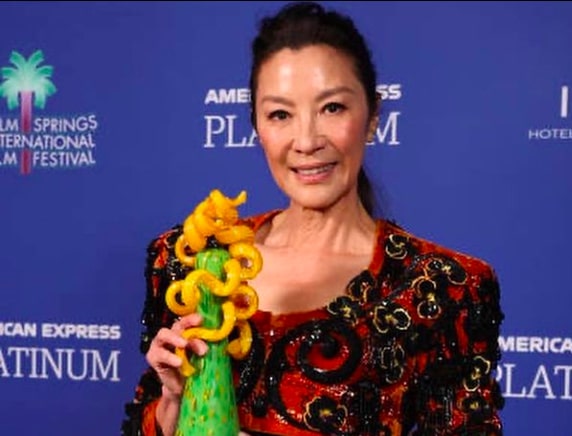 Yeoh was named TIME's 2022 Icon of the Year and also made it on their listicle of 100 Most Influential People.
Born in Ipoh, Perak, Malaysia, Yeoh was interested in ballet at a young age. Unfortunately, she suffered a spinal injury which stopped her from becoming a professional ballet dancer.
Yeoh and beauty pageant
Yeoh then focused on choreography and other arts. At the age of 20, Yeoh joined and won the Miss Malaysia World contest. The athletic star debuted her acting career acting in martial arts films and she did her own stunts.
Using a stage name Michelle Khan, she began her career in Hong Kong films such as Yes, Madam (1985), Police Story 3: Supercop (1992) and Holy Weapon (1993).
Jet Li, her co-star in the 1993 film Tai Chi Master revealed, "She usually plays masters, tough fighters."
"The action—I know she can do it. But really acting from the heart, believing the part, makes the movie very special," he added.
Yeoh was known to do all of her stunts and fight scenes.
blockbuster Hollywood movies
She then continued to star in the James Bond movie Tomorrow Never Dies, opposite Pierce Bronson, where she played Wai Lin, and was dubbed by Brosnan as the "female James Bond." She had her big break when she became a Bond girl for Tomorrow Never Dies (1997). This was one of the blockbuster Hollywood movies.
She also starred in Ang Lee's Crouching Tiger, Hidden Dragon where she had to learn Mandarin as she had only known a little Mandarin at the time. The star also made her first movie The Touch with her production company Mythical Films.
And then came more blockbuster Hollywood movies. For her role in Crouching Tiger, Hidden Dragon, Yeoh received a BAFTA Best Actress nomination. The film did very well internationally and it made Yeoh an overnight sensation.
Following the success of her roles, Yeoh then went on to star in Memoirs of a Geisha (2005), Reign of Assasins (2010), Kung Fu Panda 2 (2011), Crouching Tiger, Hidden Dragon: Sword of Destiny (2016), and The Lady (2011), where she portrayed Aung San Suu Kyi.
The versatile actress also starred in Crazy Rich Asians (2018) and Last Christmas (2019), and the Marvel Cinematic Universe film Shang-Chi and the Legend of the Ten Rings (2021). They are all blockbuster Hollywood movies.
On television, Yeoh had a recurring role in the science fiction series Star Trek: Discovery from 2017 to 2020, and starred in the fantasy miniseries The Witcher: Blood Origin (2022).
Also in 2022, she gained critical acclaim for starring as an overwhelmed mother navigating the multiverse in the science fiction film Everything Everywhere All at Once, winning a Golden Globe Award for Best Actress.
She has come a long way since then
With the success of Everything, Everywhere All at Once, she reflected on how the role became a culmination of all her acting skills.
"If after 30-something-odd years being in the business, I can still surprise you, that means I am doing something right," she told Slash Film. "As an actor, that's what you want to do—the last thing you want to do is to be stereotyped or typecast or put in a box. When I approached Evelyn, I was like, 'I do not want to be recognized as Michelle Yeoh; I do not want you to see Michelle in any form.'"
Her portrayal earned her a Golden Globe nomination for Best Actress, and she's a leading contender to be nominated for an Academy Award.
On the road to her accolades, she told Time, "I do look at all my peers—Cate Blanchett, Olivia Colman, Helen Mirren—and go, Oh God, I envy all the different opportunities you get to showcase your talent again and again," Yeoh said.
"If she wins the Oscar, she'll be the first Asian woman to win Best Actress at the acclaimed awards show. "When you get an opportunity like this, you have to pour your heart and soul into it, because you don't know when the next chance is. I think that is my biggest fear: Please don't let this be the one and only."
And, Yeoh's only getting started. She's also starring in James Cameron's megahit movie series Avatar 3 and Avatar 4 as well as the movie adaptation of the Broadway musical Wicked. For 2023, she'll also star in the upcoming Disney+ series American Born Chinese alongside Everything, Everywhere All At Once co-star Ke Huay Quan.
Alec Baldwin Charged with Involuntary Manslaughter in 'Rust' Shooting
Related Posts